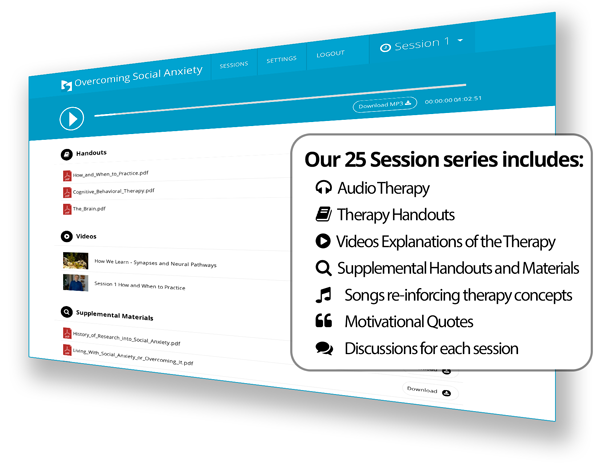 Dr. Richards discusses the New Therapy Series:
Proven treatment that has helped thousands of people worldwide
Taught by Dr. Richards, who suffered with social anxiety for over 20 years
Based on 23 years experience treating people with social anxiety disorder -- individual and group therapy
Complete 25 therapy sessions consisting of audio, video, specialized handouts and more
A welcoming, positive community where you can ask questions & discuss the therapy with other forum users
I cried tears of joy at finally finding someone who so thoroughly understands this disorder.
The thought of introductions, presentations, meetings and group discussions don't scare me anymore. Applying the therapy has really worked. I'm happy and I deserve it.
I woke up this morning, energized, motivated and WITHOUT feeling anxiety. I've woken up to anxiety every morning for the past 15 years. I cannot put into words how free I felt this morning.
Get the therapy Now
$29.99 / mo. for 6 months or
$159.99 for the entire series
The cost of the entire therapy series, including all handouts, the videos and forum, has been reduced to $159.99.   To make it even easier, you can choose the INSTALLMENT PLAN and make six (6) consecutive monthly payments of $29.99.  At the end of six months, there are no other charges and you have continued access to the therapy site forever.    
What's In the New Audio/Video Series: "Overcoming Social Anxiety: Step By Step?"
The new, revised therapy program "Overcoming Social Anxiety: Step By Step" contains complete audio instructions and video commentary to supplement the cognitive handouts. The series is solely designed to help people overcome social anxiety, and is solution-oriented (e.g., what strategies help reduce anxiety, and how can we put these strategies into place in our lives?)
Cognitive-behavioral therapy is used because it is the only type of therapy proven to be effective in permanently allowing people to overcome social anxiety. The cognitive therapy encourages you to think rationally about your life and social situations, and the conclusions you come to then change the brain's neural pathway systems.
The behavioral therapy is focused on implementing the cognitive strategies. That is, doing what you've learned out in the real world. The series is focused on taking action to overcome your social anxiety. The therapy explains how to do this in detail, and with many examples.
This new audio / video series has been completely revised and restructured. The cognitive and behavioral parts of therapy have now been combined to make progress more fluid, and video demonstrations have been made, so that you can better see how to implement the behavioral therapy.
It's now been over a year and a half since I started your program and my life has totally changed. I have stopped running from my fears and have learned to accept who I am.
I feel like I can only get better now, not worse, and I definitely plan on keeping all the skills I've learned from your series for the rest of my life so that I can have a better one.
Dr. Richard's cognitive therapy has completely changed my life. I am doing things I never thought I could do and I am doing them without anxiety!
Doing the Therapy
The therapy is organized into 25 weekly sessions, each with accompanying written handouts. It is important to set aside 30 minutes every day, when you are calm and alone, to practice, repeat, and reinforce these methods and strategies. You need to be motivated to overcome social anxiety and keep up your 30-minute-a-day practice time so that the brain's neural pathways can change.
The therapy itself is not difficult, but you must be consistent and persistent in practicing it for it to reduce anxiety and help overcome social anxiety. Rationally re-programming the brain takes time.
Each session is designed like you're visiting Dr. Richards in person once a week for therapy. The content of the therapy sessions is the same as what we provide to our groups at the Social Anxiety Institute. There is a clear and defined section that helps you know "What to Do this Week." This information will allow you to see exactly what you should be working on, which was somewhat unclear in the older audio series. In this new series, there is never any confusion about what to be practicing on and how to do it.
What You Get When You Subscribe
You will be provided with a large amount of materials that will help you on your journey in overcoming social anxiety.
The complete materials include:
25 audio sessions with Dr. Richards.  In each session, Dr. Richards talks about several cognitive strategies to help you overcome automatic negative thoughts and move you forward.
Therapy Handouts.  Each audio lesson will have handouts to go with it, all of which are provided for you. You can also buy a physical copy of all the handouts by purchasing the workbook.
Videos of Dr. Richards and others explaining the therapy techniques and strategies. The videos serve as an additional way to get the material across to you. There are videos – in many cases several videos – for each of the twenty-five sessions.
Supplemental Handouts and Materials including additional handouts to give a more thorough explanation of therapy concepts, and diagrams to supplement learning.
Songs re-enforcing therapy concepts.  Creative songs based on the therapy that will allow the lyrics to sink into your brain faster and more effectively than simply the words in the handouts. Sing along with the songs and learn more therapy methods to use against social anxiety. Aaron O'Banion took the therapy concepts and wrote the lyrics to these therapy songs.
Motivational Quotes that can be printed out, and used as posters or reminders around your house, to keep you on track with the therapy.
Forum Discussion for each session.  A proactive forum, where members can discuss their problems and successes with therapy, a place to set up groups where you live, and a chance to learn about others who are working to overcome social anxiety. You can work on the therapy with other people if you want to, or find others living near you.
And more!  Including: additional audios / videos discussing therapy handouts from group members who have attended the Local Phoenix Group and have benefitted from it, and access to the most common "Questions & Answers" submitted by users of the series.
INTERESTED?
Sign up for the audio/video therapy series "Overcoming Social Anxiety: Step by Step HERE.
Detailed Information About Each Session
Here is a detailed description of the therapy contained in each session. Dr. Richards is speaking directly to you, just as if you have come in for your first private therapy session, and he provides you with concrete, rational solutions to social anxiety disorder.
Session 1
Introduction to the series. How and why to learn cognitive strategies. The right way of approaching and implementing the strategies. The human brain and how we learn new habits and learn to act automatically.
Session 2
Learning slow talk as a way to calm ourselves down and not allow our body's adrenaline and cortisol to panic us or cause us to feel highly anxious. How to slow our thinking down. Learning to be in control over our thoughts, relaxing, taking it easy, and slowing down.
Session 3
Why we need to catch and stop our automatic negative thoughts (ANTs) and then tell our brain that we want to keep thinking more rationally.
Session 4
What runaway ANTs can do to us if we let them. How we can catch our ANTs, label them as being wrong, and find something to distract ourselves from negative thinking.
Session 5
Why beating ourselves up never helps and only makes us worse. Rational coping statements for anxiety.
1. Why we need to stop doing what has kept us stuck in the vicious cycle of anxiety for years and years.
The physiology of social anxiety: Neurons that fire together, wire together, and what we can do to stop this.
Session 6
How to decrease self-consciousness by using the "look around technique." Setbacks happen to everyone – and what to do about them. Learning to approach anxiety one step at a time – by not avoiding, but also by not choosing situations that cause too much anxiety.
Session 7
The Fighting Paradox or why fighting against our anxiety only makes it stronger. Learning to accept ourselves instead of battling and fighting.
Illustrations of this important concept.
Session 8
Doing the same thing over and over again to stop having anxiety does not help us overcome social anxiety. Instead, we need to use different strategies so that we obtain a different result.
How to loosen up our muscles and let the anxiety and stress go.
Why physical exercise is important: the addition of the "endorphin" neurotransmitter into your bloodstream and the calm feeling it generates.
Why we should accept ourselves just like we are this very moment, and why this is important to overcoming social anxiety.
Session 9
To begin behavioral therapy, we must choose the easiest way to get started. How and why to do this.
Progressive muscle relaxation: learning how to feel relaxed in any social situation.
Session 10
Replacing irrational ANTs thinking with rational thoughts and beliefs.
Strategies that will de-stress any situation, allow us to see things rationally, and help us feel more comfortable.
2. The importance of knowing why some thoughts are poisonous to us, and how we can take the initiative and act against them. We learn to act against our irrational thoughts and feelings gently...step by step so that anxiety is reduced in the process.
3. How we were brainwashed into having social anxiety, and how we will "wash our brain" to overcome it.
4. How to think in a rational and positive direction. New, rational thoughts we need to sink down into our brain deeply.
Session 11
Continuing to change the way we think, so that we automatically begin to think more rationally about ourselves and the world around us. Catching old irrational thoughts and replacing them with rational, common sense thinking.
Learning how to go conditional, or neutral, with our thoughts so that they will change over time.
Cognitive distortions: How to recognize and re-appraise them.
Session 12
Making small talk with other people: how to do it and how to feel relaxed while doing it.
Continuing to replace our old thoughts and beliefs into a new solid belief system that is rational.
Session 13
How you see yourself and the world: Why you may have been seeing yourself incorrectly for a long time, and what to do about it.
Learning to view yourself more rationally, and learning to view social events and circumstances more rationally.
The power of humor and comedy in overcoming social anxiety – how to use it to help us get better.
Whatever you currently believe is what you'll always believe unless you learn this new concept. Why believing what we've told ourselves might not be a good thing, and how to get to the place where we are thinking and believing rational things about ourselves and our lives.
Session 14
The brain recycles what it already believes and pays attention to things that fit into its current belief system. Why this is a disadvantage to us as we learn to overcome social anxiety and what we can do about it, so that we can learn to think and believe more rationally.
"How You See Yourself and the World, part two." Are we acting in certain ways that could cause other people to misinterpret who we are? If so, what can we do about it so that other people see us for who we really are? How to think rationally about other people, and how to fit in with them.
What we've been thinking all our lives – that we can't do things like everyone else – is not true and has held us back – and how we change our thinking about what we can do.
A reminder that we are always doing "therapy" on ourselves – every day – whether we know it or not.
Session 15
How to get started doing behavioral therapy.
The two competing neural pathway systems in your brain, and why one will win out.
How to keep our brain open to new ideas and interpretations of life. An open mind encourages us to seek out rational answers. A closed mind will not allow us to make progress.
Session 16
Your belief system runs and rules your life. Whatever you believe comes true (common sense wise). Your beliefs are more powerful than you understand, and how we can use our new rational beliefs to eliminate anxiety.
Behavioral activities: additional things we can do to reduce anxiety.
How to actively listen to other people and take the initiative – and why doing these things decreases anxiety.
The vicious circle of beliefs that anxiety causes and how to shrink them down to size.
Session 17
How to mingle comfortably. The Deserving Statements: a group of statements you should feel about yourself.
How to stay away from perfectionism and pressure.
How to pay external attention to other people and other things – so that we don't have time to go inside our head (internally).
Session 18
How to be assertive. Specific ways of speaking up and getting your point across calmly, and without feeling anxiety.
How to reduce self-consciousness.
How to think for yourself so that you are not brainwashed. You need to question all your old negative beliefs to see if they are rational or not. Perhaps you were "brainwashed" into them.
The Profound Concept: Our feelings won't change until we act upon them.
Session 19
How to make conversations with groups of other people without feeling anxious.
Should we feel like we're living in a hostile world? Is everything and everyone against us, or is this another ANTs feeling?
Focusing on the good things in life helps reduce our anxious feelings.
Why we should act against our negative feelings instead of being scared by them. Gently acting against our negative feelings helps us take another step forward in "Overcoming Social Anxiety."
Session 20
How the "Power Statements" can help us think more rationally.
Why "Staying in the Moment" helps us feel our anxiety going down. Staying in the moment and refusing to rush away from it, allows our anxious emotions to recede and disappear.
Why the "Moving in a Positive Direction" statements help keep us rational and help keep us moving forward.
Why avoidance is never the solution to problems about anxiety. Why avoidance is our worst enemy.
Session 21
Why having irrational expectations can cause us problems. How to keep ourselves on track by having a rational talk with ourselves every day. Why some thoughts and beliefs are "poisonous" to our progress and to overcoming social anxiety. How to stop these poisonous thoughts.
Why worrying is never helpful and always pulls us down. Worrying always magnifies the insignificant and minimizes what is important. There is no value, no help, no progress in worry. Worrying never does anyone any good. How to stop worrying and start thinking rationally.
Session 22
Why listening to our feelings is not a good thing. Listening to our negative emotions just makes us worse, because our negative emotions are irrational. How to stop listening to our feelings, and go along with what we know to be rational.
How to deal with shyness, timidity, and being hesitant. Things you can do to cut down on these three anxious behaviors.
Some new therapy strategies that may seem silly and small – but can have a powerful effect on decreasing social anxiety.
How to see things from a different perspective, a different viewpoint. By looking at things through other peoples' eyes, we get a much more rational view of how we're doing. The ability to see things from different perspectives is important in overcoming social anxiety.
Session 23
How to enter the "Peace Zone." How to calm down, relax, and feel peaceful. We learn that confidence and self-esteem come out of our feelings of peace and through the positive feedback of others.
The "Peace Zone" handouts are all designed so that you can feel this calmness and peace, and so that you can have control over this feeling of calmness and peace whenever you choose to feel it.
The series is focused on practical, real-life solutions that will reduce and extinguish the awful effects of social anxiety in your life.
Session 24
How to let go of the negative past. Anything negative that happened in the past has the potential to mess you up in the present. In session #24, we learn how to let go, release, and set free these old negative experiences until we feel they have no more power over our lives. There is no emotional "pull" from these negative life events like there was in the past.
How to take responsibility and make rational choices going forward. Our lives are changing as we take charge of them and act differently – less anxiously – than we did in the past.
How to stay honest with yourself and notice the proactive and positive things you are doing.
How to improve your public speaking, nicely, gently and without having anxiety about it.
Session 25
How to stay away from perfectionism in life. Seeing perfectionism is a trap that keeps us stuck in social anxiety. How to keep on going and never give up as we continue onward with our lives.
A final review of how to reduce and eliminate anxiety for good.
I can say for once that I am starting a new year with great optimism and eagerness. New hope brings new plans. And I am pursuing them with more sureness and confidence than ever before.
Through your therapy, I have learned of the choices I have and the things to tell myself in order to feel better bit by bit. I learned I always have choices and little steps that I can take to slowly move my life in a more positive and healthier direction.
Your program has brought me hope and help. Working through the series has given me tools for managing and minimizing my SAD. The structured approach provided by your series has been essential to my progress in overcoming social anxiety.
Going through the therapy series in the right order, and not skipping around, is the only way that we can build on strategies and methods already learned.  Consistent, systematic use of the cognitive strategies is the only way we know to overcome social anxiety.  A permanent change in your life means that your brain has changed.  You can read about the scientific basis for the use of cognitive-behavioral therapy on this website here, here, and here.